News
IUMI congress dedicated to Strength & Stability
It's over again. The annual congress of the International Union of Marine Insurance (IUMI) that took place from 17 to 20 September. This year Edinburgh was the stage and on behalf of the Dutch Association of Insurers, policy advisor Marko van Leeuwen was present. He explains what IUMI is and does, but also what the lobby organization is doing.
26/09/2023
Flooding doesn't stop at the border
That's why collaboration and learning from each other is so important. Because not only Limburg was hit hard during the floods in July 2021. In Germany, too, the consequences were disastrous, with even fatalities. During the working visit of the Association to the Gesamtverband der Deutschen Versicherungswirtschaft (GDV), flood damage was central, but other important topics were also discussed, such as the revision of the European supervisory framework Solvency II.
19/09/2023
Verbond enters into Open Insurance partnership with INNOPAY
Sharing data – whereby the rights holders retain control – offers tremendous opportunities, but is also one of the biggest challenges of our time. We are delighted to announce that the Dutch Association of Insurers has recently entered into a new partnership with INNOPAY aimed at actively tackling this challenge within the insurance sector.
19/09/2023
Highlighted

Many laws and regulations that are relevant to insurers come from the European Union. Read more about the activities the Association undertakes in Europe.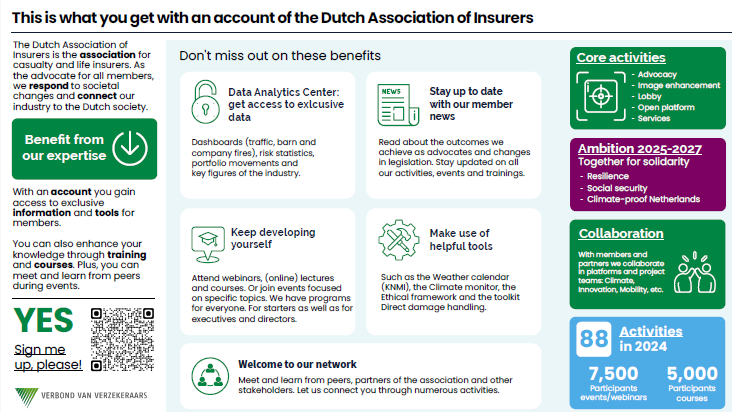 Our membership offers a lot for employees. Get an account and attend meetings, develop your skills through with our trainings and receive newsletters for members only.