Members of the Association are strong because they have joined forces. But membership also offers advantages for the individual employee of members: attend meetings, take an account and / or subscribe to our newsletters or participate in committees or working groups. Read on!
Strong together: joining forces
Advocacy
The Association represents the interests of its members and connects them with the interests of society. We strive for a vital industry. To this end, we strengthen our social role and are always looking for insurance solutions.
Every day, the Association is in dialogue with the government, The Hague and European politics,(branch) organizations, regulators, NGOs and the media. For example, about old-age provisions and social security in our country, but also about the security of residential homes or the consequences of climate change.
Members in boards, committees and working groups jointly determine the positions we express.
Decide with us! View the vacancies within committees, boards and working groups.
Platform
Members can meet at and through the Association. But of course our sector does not stand alone. The Association therefore acts as a platform between the insurance sector and society.
Together, members and partners look for solutions to issues such as insurability, the climate, the handling of data or the future of the labour market. Various events are also open to both members and non-insurers. Moreover, we open our beautiful office to, for example, insurers and InsurTechs to innovate together and learn from each other.  
PR coordination/spokesperson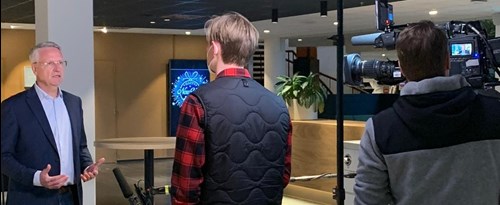 In order to maintain or further promote the reputation of insurers in the Netherlands, the Association coordinates the PR and spokesperson of the industry.
Employer affairs
As an employer's party, the Association concludes the collective labour agreement for insurance business (internal and external service) with trade unions. We also work with a social agenda in which the labour market value of employees is central. Read more about these topics 
Fight against crime
The Centre for Combating Insurance Crime (CBV) supports insurers operationally and policy-wise in tackling fraud and other insurance crime. Every year, the sector saves eighty to one hundred million euros by demonstrating fraud.
Self-regulation
Self-regulation and control contribute to quality. They strengthen the trust of consumers and stakeholders. It also offers efficiency benefits for members. Read more about this system of company regulations, covenants, protocols and codes of conduct.
Consumer information
Service to (employees of) members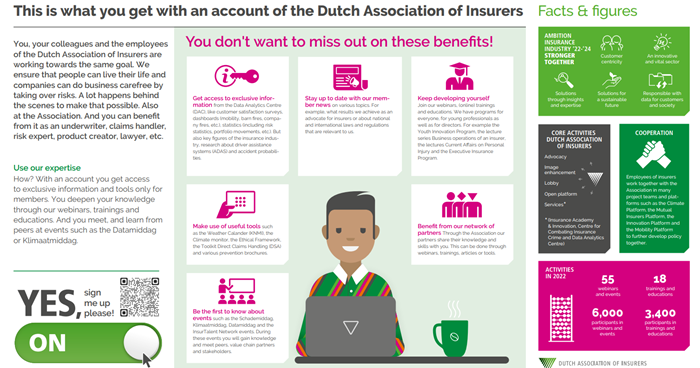 Information
Training, webinars and events
Participate in (master)programmes, webinars and courses via the Academy. With more than a hundred meetings and theme days, there is always something for you!
Data and research
The Data Analytics Centre (DAC), formerly the Centre for Insurance Statistics (CVS), conducts statistical research. This allows members, for example, to improve their business operations or compare their portfolio with other insurers. Through collaboration, we can link more and more data, which leads to new insights.
Use of meeting facilities
Do you want to use our pleasant work or meeting rooms in The Hague? For availability and rates, call the general number 070-333 85 00.