What about insurance fraud in Norway? What are hot topics? Is there more or less fraud there than with us? What can we learn from the Norwegians and what can they learn from us? Ten members of Finance Norway visited the Dutch Association of Insurers last week and shared their experiences with the Insurance Crime Centre (CBV).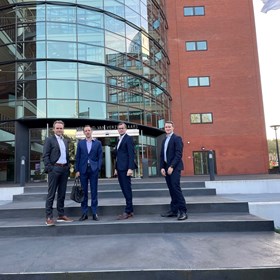 In contrast to the Dutch Association, Finance Norway not only represents the interests of affiliated insurers, but also of banks. In total, more than 240 financial companies are affiliated with the Norwegian federation.
According to fraud manager Harald Bjerke (second from left), the banks in Norway are more focused on compliance, while insurers focus mainly on insurance fraud and crime. His Insurance Crime Unit is a small department, consisting of three people: fraud manager Kjersti Mehus, director Frode Bjeglerud and Bjerke himself.
Coordinating role
In addition to this contradiction, there also appear to be many similarities. In the Insurancelab, at the office of the Dutch Association in The Hague, Bjerke gives a short presentation, in which he explains the work of the Insurance Crime Unit, the Norwegian counterpart of the CBV. "Just like our Dutch colleagues, we do not directly interfere in the individual fraud cases of our members. We do not do any research ourselves, but we do play a coordinating role in large cases in which more insurers are involved."

The Insurance fraud committee, which consists of eleven large insurers, is, just like the CBV committee at the Association, concerned with strategic and policy issues concerning prevention, detection and tackling insurance fraud. The focus for the coming year is on sharing information, but the Norwegian commission is also looking at more efficient ways to share that information. "We still work the old-fashioned way and record our statistics in Excel sheets, for example. That can and must be improved."
Harald Bjerke: "We still record our statistics in Excel sheets. That can and must be improved!"
Figures Norway
In 2021, Norwegian insurers detected a total of 1,097 frauds. The Norwegians have thus saved more than 390 million Norwegian Kroner, converted into just under 40 million euros.
Nearly eighty percent of all claims relate to private non-life insurance. And about half of the fraud cases take place with car insurance. Common is, for example, the phenomenon of 'claiming old damage as new damage'.

Figures The Netherlands
In our country, private motor insurance is also popular with fraudsters. About 30 to 35 percent of frauds take place in that category. Claiming more damages than there is, lying about the claim history, intentional collisions or even lying about having a driver's license. It all comes along.

"At the moment, lying on insurance applications is a hot topic in our country," says CBV manager Roelof Visscher. "That lying to get an insurance has been rising very fast for years. In 2016, for example, insurers discovered 'only' 5,598 frauds with applications, while that has risen to 8,308 in the past year."

More figures on insurance fraud in the Netherlands in 2021 can be found next week in the Factsheet published on www.verzekeraars.nl .

What happens to the insurers' police report?
One of the biggest similarities that both organizations share with each other is their experience with the police. "Between five and fifty percent of the fraudulent claims end up at the police station, but it depends very much on the district whether something happens to it afterwards," says Bjerke.
Roelof Visscher, host and manager of the CBV, responds with his first experiences in the fraud world. "When I started in 2008, more than 2,000 reports were made to the police. Not one of them was investigated by the police that year."

Visscher then explains that a lot has changed in almost fifteen years. "In our country, a researcher spends an average of four to six hours reporting a case to the police. If you know in advance that nothing will happen to it, you will think twice about reporting. It is a waste of time. However, as a trade association, we have not been idle either. Together with the police, we have drawn up criteria for a good report. Insurers now make fewer reports, but they are of a higher quality. In addition, we have started a civil route to make fraudsters pay for the damage they cause. Since the summer of 2016, many fraudsters are immediately presented with a bill of 532 euros. This direct liability policy works."
Roelof Visscher: "Our direct liability policy works!"
"We can't do it alone"
"Norway is not that far yet," says fraud manager Kjersti Mehus. "We are now trying to change the focus of our police first. They think that insurers have enough money and can suffer the loss. But we don't care about money. Fraud is a crime and must be punished. That is why we work to create that awareness. Fraudsters need to know that they risk imprisonment and their actions cost society money. We desperately need the help of the police."

A final, big difference between the two countries is that Norway does make guidelines for the affiliated members on how to deal with (potential) fraud, but has no protocol for this. In the Netherlands, a Code of Conduct has been in force for years, which means that members of the Dutch Association of Insurers must comply to binding self-regulation and must pursue an active fraud policy. The Norwegian delegation took this Code of Conduct back to Norway in their suitcase.